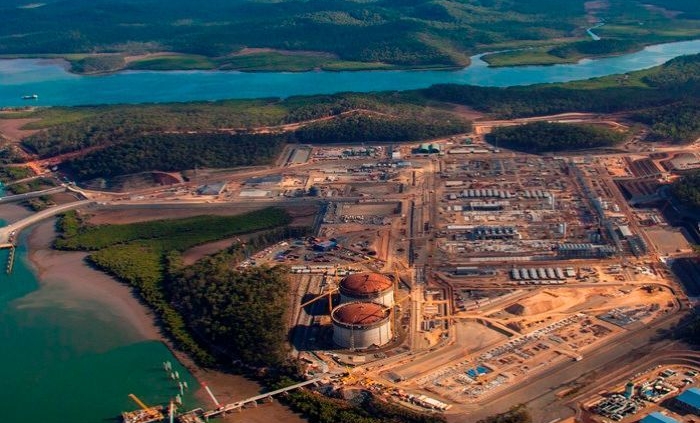 Updated November 23, 2018 14:27:57
The collapse of one of the nation's oldest engineering companies RCR Tomlinson has destroyed Christmas for thousands of families, according to the Electrical Trades Union (ETU) dealing with the fallout from the unexpected job losses.
Key points:
One contractor owed up to $800,000 union says
Labour hire companies looking at redeployment options for workers from solar farms
Energy minister says administration of RCR Tomlinson was a Federal Government issue
ETU state secretary Peter Ong said hundreds of devastated contractors were calling him saying they were owed hundreds of thousands of dollars and were suffering financial hardship.
"I got a text last night from another contractor who is owed $800,000, he is a small electrical contractor," Mr Ong said.
"$100,000 owed to a transport contractor, $200,000 to labour hire companies.
"These are not large contractors they are smaller contractors. Significant amount of money owed out there in the millions I suggest.
"They are extremely disappointed in such a major company like RCR which they did have faith in.
"We have workers out there who were expecting to have work to carry them through the Christmas period who have now been dropped out onto the street.
"It is just going to destroy Christmas for them."
RCR Tomlinson has more than 3,400 employees across the nation and specialises in big infrastructure projects in the mining and energy sectors.
Hundreds of contractors working at sites across the nation have been left in limbo as administrators McGrathNichol move in to see which parts of the business are salvageable.
Two labour hire companies that have laid off employees working on solar farms in north Queensland say they're looking at redeployment options.
'Where is the due diligence?'
Queensland's energy minister Anthony Lynham said RCR's administration was a Federal Government issue.
"There's nine projects in Australia, most are mechanically completed, there's one project in Queensland that still has a way to go and I'm advised a half an hour ago that project will be continued to completion," he said.
Mr Lynham dismissed concerns RCR's administration would undermine faith in new solar projects and called on McGrathNichol to ensure employees received all of their entitlements.
"I've got 71 projects lined up wanting to come to Queensland, 71 renewable energy projects," he said.
Opposition Leader Deb Frecklington said the collapse was concerning.
"The Palaszczuk Government have a lot to answer for. Here they are going into a head-long rush into renewables and things like this happen," she said.
Mr Ong has asked both state and federal governments to "play more of a role in the renewable sector" to protect workers.
"Certainly when they are undercutting other players in the industry by tens of millions of dollars on contracts that have very skinny margins as it is — it is suicidal," Mr Ong said.
"Anyone with half a brain could see they were not going to deliver to those jobs and make any profit whatsoever.
"They raised $100 million in capital a few weeks ago, where the hell has that gone? Due diligence, where is the due diligence a board is suppose to show?"
The company's board went to shareholders for fresh capital in late August, having been forced to take a $57 million write-down on the value of its Daydream and Hayman solar farms in Queensland earlier this year.
The move stunned investors who kicked in another $100 million in equity.
The share price crash and last week's trading halt has also prompted lawyers Quinn Emanuel Urquhart and Sullivan to file a class action on behalf of investors in the NSW Supreme Court.
Topics: business-economics-and-finance, electricity-energy-and-utilities, solar-energy, australia, qld, townsville-4810, dalby-4405, wa
First posted November 23, 2018 12:57:32
https://centralcoastenergy.com.au/wp-content/uploads/2018/11/its-going-to-destroy-christmas-workers-lose-thousands-after-rcr-collapse.jpg
467
700
ccwebsites
https://centralcoastenergy.com.au/wp-content/uploads/2018/10/logowhite-trans3.png
ccwebsites
2018-11-23 12:57:32
2018-11-23 12:57:32
'It's going to destroy Christmas': Workers lose thousands after RCR collapse